Serious football fans will want to watch their favorite teams play in the most impressive room they can. What gets a sport fanatic excited : more than watching their team win? Watching that win on a 120-inch or bigger home theater screen in a room custom decorated with awesome sports memorabilia.
The best home theaters are often about more than the equipment. They're about the design, and sports, particularly football, themed theaters are more common than you might think? Some home theater fanatics simply hang their team's jersey on the wall or mount an autographed football someplace prominent. Others go all way with an interior décor designed to put guests in game mood even before the action starts.
Aside from the football paraphernalia, what does it take to make a great football home theater? A big screen, is a must, preferably a projection screen and high definition projector. If your room doesn't allow that, then a large flat screen TV is also awesome, just make sure it's big enough to create an immersive view and lets all your guests easily see the action without having to bob and weave their heads around other people. A room with multiple screens is especially good if you plan on watching more than one game at once. A surround sound system will help replicate the noise and excitement of the stadium. Tiered theater seating on risers is nice, but not usually practical if you plan to have large parties in the space. However, good theater seats also include handy drink holders and snack trays, which is a bonus for lucky guests.
Here we've rounded up some of our favorite football themed home theaters. Which one is your favorite?
In this room, the owners can watch up to five games on their five LCD TVs, or press a button and rotate the entire seating area to face a 100 inch projection screen. The owners of this room won the custom installation as part of a contest co-sponsored by the NFL Network and DIY Network. More about this home theater here.
The owners of this renovated basement designed their home theater around their favorite college football team, the University of Maryland Terrapins, commonly referred to as the Terps. The black-and-red color scheme sets the tone, as do a pair of acoustical panels that each prominently displays a silk screen of the Terrapin mascot. More about this home theater here.
While this 5-screen home theater room is impressive, what really makes this a football fan cave is the custom interface (shown) the installer designed for controlling the system. The iPad app was designed to show off the owner's love for the Pittsburgh Steelers. Each TV represented on the iPad menu presents a different scene from football past. More about this home theater here.
The owner of this Notre Dame-style theater may live hundreds of miles from his alma mater, but when the 130-inch Stewart Filmscreen screen lowers from its hiding spot in the ceiling and the Runco D-73 3D LED projector fires up, it's as if he's seated on the 50-yard line of his beloved "brick house." "Having a very large screen for watching football and movies was one the owner's primary requests," says custom electronics (CE) pro Dean Valencic of Integrated Electronic Solutions (IES) in Yonkers, N.Y. "So was having multiple screens to watch several games at the same time."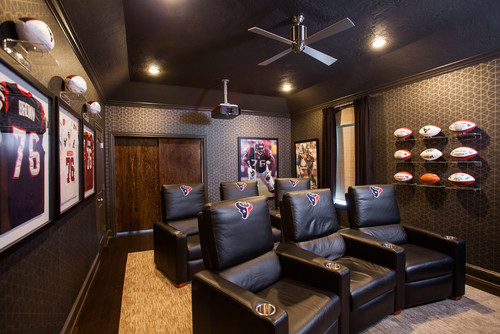 The owners of this smallish room made the most of it by decorating the walls with favorite team jerseys and footballs.
OK, so this room's filled with baseball decor, but the five screens and convenient bar still make it a great place for any sport fan.
This room just screams "sports fan," among other things. We just wish that TV was bigger.
This room doesn't overdo the sports theme, but the ample sofa seating, large screen and drink shelf all make this a great spot for entertaining during the Superbowl.
Do you want: a super football theme, or any themed, home theater or media room installed in your home? If so, go here to find a professional installer near you.
Originally posted on January 28, 2015 and updated on October 27, 2015.